Discussion Starter
•
#1
•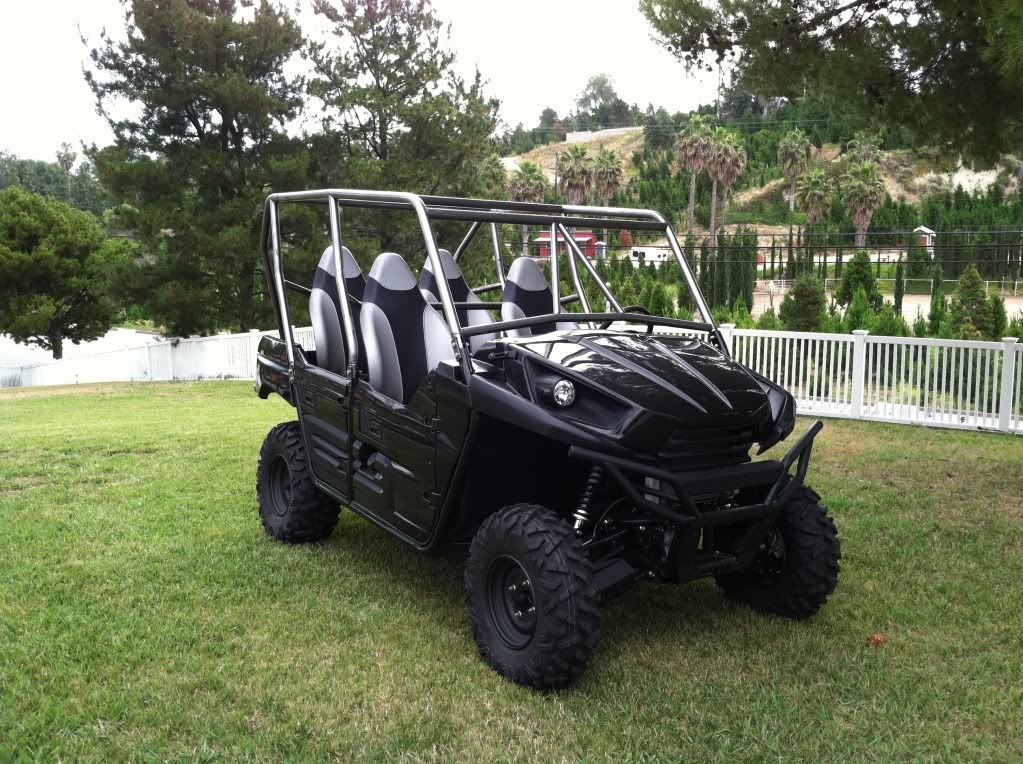 All the Performance, Style, Function and Fun
You Expect from a Teryx 750 4x4 – with Room for Four!
Twice as much of a good thing is always better, right? Absolutely. So you knew Kawasaki would eventually double the Teryx's substantial fun and function factor by adding two seats – enough for more friends, extra help or the whole family.
The result is the all-new 2012 Teryx4™ 750 4x4 – a top-of-the-line four-seat RUV with truly amazing capabilities. Of course, Kawasaki didn't just bolt two extra seats to the Teryx 750's chassis and call it a day. Engineers figured out exactly what was needed to do the four-seat Rec/Utility concept right, redesigning the entire machine from tip to tail with an all-new chassis and a thoroughly reworked V-twin engine pumping out extra power for the additional load the Teryx4 will gladly carry.
The foundation of any top-tier RUV four-wheeler – especially one with four seats and significant carrying capacity – is its frame, so Kawasaki engineers used detailed computer analysis and loads of off-road testing when developing the Teryx4's all-new square-tube steel frame. Unlike the more conventional designs found on many lighter-duty two-seat RUV models, the Teryx4 features a Double-X frame design with two X-shaped cross members bridging the box structures from corner to corner.
Like the frame, the Teryx4's 749cc V-twin four-stroke engine is also new, offering 15 percent more power than the already stout unit in the 2-seat Teryx, along with all the durability to deal with the rigors of spirited fun in challenging off-road environments. The V-twin design is revered for its stump-pulling power and easy-to-harness flexibility, which makes it the perfect powerplant for a machine like the Teryx4, which thrives on instantaneous and controllable low- and mid-range response partnered with eye-opening hauling ability. In fact, engineers purposely gave the big Vee a bit of a dual personality: there's exciting, arm-straightening yank when ridden solo or with a single passenger, but plenty of torque and grunt for carrying more people or heavier loads – much of it due to revised camshaft profiles and equal-length exhaust headers.
Liquid cooling – assisted by a large-volume radiator and large-diameter fan – keeps temperatures down and reliability up with help from an array of superb engineering: optimized piston-wall thickness; special surface treatments to piston pins, small and big end bearing surfaces; idealized crank journal bearing sizes; robust transmission design; and much more.
Electronic fuel injection – featuring new fine-atomizing 12-hole injectors – offers easy starts and perfect throttle response at sea level and at the higher elevations you'll want to discover again and again. The FI system offers automatic mixture compensation, automatic idle adjustment and easy, choke-free starting via a sophisticated array of sensors for inlet air pressure, throttle position, crankshaft position, rpm and coolant temperature.
The Teryx4's 90-degree V-twin engine is also super-smooth, its perfect primary balance keeping things comfortable for driver and passengers all ride long. Routing all that impressive and usable power to the wheels – and ground – is the latest in modern drivetrain technology: a Continuously Variable Transmission (CVT), a category-first centrifugal clutch assembly and an electrically selectable 4WD system featuring instant-switch access to 2WD, 4WD and 4WD+Front Differential Lock system. The CVT is well known for its quick response and direct engine "feel" in sportier riding situations, where engine power is used to control the chassis while turning and in rough conditions. The key to the Teryx4's dual-mode personality is its category-first centrifugal clutch, which offers an extra degree of precision slow-speed power manipulation and smoothness, which is ideal for tricky terrain (rock crawls, etc.) or slow-speed work where precise throttle manipulation is key. The oil-bathed clutch design also contributes to improved CVT belt life by lessening shock and belt deflection.
The electronic 4WD system allows drivers to easily change between three different drive modes for most situations they find themselves in: 2WD (light steering) for maximum sporty performance, 4WD for enhanced traction while keeping steering relatively light, and 4WD+Differential Lock for maximum traction situations. A dash-mounted switch makes switching between these modes easy, and changes occur instantaneously so the driver remains in complete control at all times. So whether it's climbing a slippery and rocky uphill trail, negotiating a wet stream bed, hauling lumber for fixing fences on the farm, or hauling butt down a wide-open two-track, the Teryx4's got the traction and drivetrain mode to handle it.
All this superb handling ability is aided by a number of factors, including a wide-track/wide-body chassis design that contributes to superb cornering characteristics. A wide track resists the body roll that accompanies cornering forces, and helps the chassis cope with rough terrain at speed. The Teryx4's mid-ship engine placement also helps by centralizing the vehicle's center of mass and minimizing the inertia that accompanies direction changes.
Of course, sport-focused independent suspension helps, and the Teryx4's got plenty. Again, engineers opted for a dual-mode design; that is, the suspension works in a comfortable way with four passengers aboard, but also performs like a sporting RUV in a solo mode or with a single passenger. It's a difficult combination to get right, but high-grade componentry helps out. Up front are high-performance single-chamber gas-charged and preload-adjustable shocks complemented by an anti-roll bar, which allows an ideal front/rear roll balance and added ride comfort. In back are fully adjustable shocks with piggyback reservoirs, which offer additional oil flow for cooler temperatures and more stable damping performance.
With all this speed and handling potential, excellent brakes are a must, and the Teryx4 delivers in a big way. High-performance hydraulic discs up front using 200mm rotors gripped by dual-piston calipers offer exceptional feel and stopping power. The brakes are recessed within the wheels, protecting them from dirt, water and debris, while durable steel-braided lines help keep lever feel crisp and progressive. In back is Kawasaki's unique sealed internal wet brake, similar in design to the highly acclaimed disc system used on our award-winning ATVs and two-seater Teryx models. Internal components are completely sealed from mud, water, dust and debris, the result being ultra-reliable braking performance in most conditions. The combination of powerful discs up front and the sealed system in back is ideal, and contributes once again to the Teryx4's wide-ranging overall performance.
Large 26-inch Maxxis Bighorn 2.0 tires are the largest available in the RUV category, and offer the type of ride comfort, control and traction you'd expect from an RUV this capable in so many different environments. Their tread and carcass design help maximize forward traction while at the same time optimizing control for aggressive cornering.
The Teryx4's unique chassis dimensions help in the areas of turning, climbing and working, too. Its relatively short (compared to other four-seat RUVs) 85.7-inch wheelbase affords it a surprisingly small 16.7-foot turning radius, which makes tight turns an easy affair on trails or in tight spaces. The unit's substantial ground clearance (10.8 inches) helps keep it from bottoming when cresting a ridge or rolling an obstacle, while high approach and departure angles (79 and 65 degrees, respectively) thanks to minimal bodywork overhang reduce the possibility of smacking the front bumper when approaching a steep slope or scraping the tail when exiting one.
Did someone mention work? The Teryx4 excels at all sorts of 9-to-5 or leisure-oriented jobs, from hauling to transportation to towing, from small jobs to really big ones. Its 250-pound-capacity cargo hold is sizeable, measuring 18 by 48 inches, with an 8.5-inch depth. The flat-bottomed space is big enough for a large cooler, spare fuel cans or other large objects, and four tie-down loops help secure cargo safely. The rear wall is shorter in the center, which makes it easier to load and remove items. Towing capacity is a staggering 1,300 pounds.
Convenience features include DC sockets – one in front, another in back – providing a total of 120 watts of electrical power, while nearly 8 gallons of fuel capacity offer substantial range, enough for a long day of work or trekking. There's a drink holder for each of the four seats, while an auto-style parking brake activates the sealed rear brake setup, to aid parking even on a slope. Getting at the front suspension, coolant reservoir, air filter and electrical equipment is easy thanks to an easy-open front hood, which is part of a body package that's stylish, rugged and rugged-looking.
Those powerful and purposeful good looks start up front, with a stylish hood, beefy steel front guard, headlamp and fender design that gives the Teryx4 a no-nonsense look that says "sporty" and "functional" in the same breath. Standard doors front and rear are easy to use, look good, and offer a level of mud protection. Scratch-resistant bodywork and textured paint on the ROPS framework and front guard help keep the Teryx4 looking good for a good long time, too.
You'll enjoy riding in the Teryx4 for a good long time, too, because it's the most comfortable RUV in its class by far. Its roomy interior gives driver and passengers room to spread out, with plenty of hip, shoulder and legroom. High-backed bucket seats and three-point seatbelts offer a high degree of comfortable security, while urethane cushioning and cold-resistant elastic seat material provide all-day plushness. The adjustable front seats offer three positions in one-inch increments, while the back seats are mounted slightly higher than those in front to give passengers a better view forward and an easier time getting in and out. Handholds integrated into the frame give passengers extra security, while comfort mounts and an anti-cinch feature on the seatbelts helps prevent over-tightening when the belts lock during sudden deceleration (or when the tilt sensor is activated). Helping ensure riders wear their seatbelts is a handy seat-belt use reminder light, which remains lit if the driver's belt isn't buckled.
Instrumentation is top-notch, and includes a multi-function electronic display that provides a ton of useful information: Speedometer, fuel gauge, odometer and hour meter, clock, dual trip meters, 2WD/4WD indicator, front differential indicator light, parking brake indicator, water temp and fuel injection warning indicators, reverse indicator light, etc. – everything you need to know.
Power. Comfort. Convenience. Hauling and towing ability. Reliability. Four wheels. And now, four seats. Our Teryx model line has always been a pinnacle of off-road fun and function. And for 2012, there's twice as much to like about it.
A large selection of authentic Kawasaki Accessories is available through Kawasaki dealers for the 2012 Teryx4 750 4x4. As with all off-highway vehicle recreation, Kawasaki encourages RUV drivers to drive responsibly and to respect the environment.
Kawasaki Motors Corp., U.S.A. (KMC) markets and distributes Kawasaki motorcycles, ATVs, personal watercraft, utility vehicles and recreation utility vehicles through a network of more than 1,350 independent retailers, with an additional 8,000 retailers specializing in Kawasaki power products and general purpose engines. KMC and its affiliates employ nearly 3,100 people in the United States, with 300 of them located at KMC's Irvine, California headquarters.
Kawasaki's tagline, "Let the good times roll.™", is recognized worldwide. The Kawasaki brand has become synonymous with powerful, stylish motorcycles for over four decades. Information about Kawasaki's complete line of recreational products and Kawasaki affiliates can be found on the Internet at Kawasaki Motorcycles, ATV, Jet Ski Watercraft, Utility Vehicles, Recreational Utility Vehicles.
# # #
2012 Kawasaki Teryx4™ 750 4x4
Features and Benefits
Key Features
− All-new model for 2012
− Room for four means twice the personal payload and twice the fun. And with the rear seats mounted higher than those in front, rear-seat passengers have a better view forward – and have an easier time getting in and out
− Perfectly balanced 749cc V-twin engine with digital fuel injection offers more power, especially in the low and mid range, exactly where a four-seat RUV needs it
− All-new Double-X frame design offers rigidity and durability for the Teryx4's extra weight and higher carrying capacity
− All-new bodywork package offers good looks and extreme durability for the long haul, with scratch-resistant material used throughout
− Sport-focused suspension front and rear offers an ideal compromise between sporty control and superb ride comfort
− Roomy interior lets driver and passengers stretch out, while ample cargo space means you can take along plenty of supplies and gear
− Short wheelbase versus the competition allows a short 16.7-foot turning radius (handy in tight situations) and the ability to climb over obstacles that would ground longer and lower vehicles
− Superb off-road ability, including high-grade Maxxis Bighorn 26-inch tires on 12-inch rims, 10.8 inches of ground clearance, a 17-degree break-over angle, and 23.6-inch water fording depth
− Continuously variable transmission (CVT) and category-first centrifugal clutch offer sporty performance and the slow-speed throttle precision needed in tricky or slow-speed conditions
− Electronic three-mode 4WD is controlled by a handy cockpit switch and allows instantaneous changes from 2WD to 4WD and 4WD with differential lock for maximum traction situations
− Dual 200mm front discs and a sealed multi-plate rear brake system help provide stopping power
− Convenience features include standard colored doors, auto-style parking brake, roomy cargo area with four tie-down loops, full instrumentation, hand-holds, two-tone seats, over fenders for mud protection, opening front hood for easy maintenance and much more
− Multi-function instrumentation offers the driver a host of important information, including speed, hour meter, fuel level and much more
Liquid-cooled 749cc V-twin Engine
− Teryx4's perfectly balanced liquid-cooled, 749cc SOHC, four-valve-per-cylinder fuel-injected, 90-degree V-twin engine pumps out substantial power, especially in the low- and mid-range, precisely where a four-seat RUV needs it
− Peak power has also been raised in addition to the focus on low- and mid-range grunt
− Oversquare (85 x 66mm) engine dimensions and high-flow four-valve cylinder heads contribute to the Teryx's superb acceleration, low- and mid-range pulling power and overall engine flexibility
− 90-degree V-twin configuration offers perfect primary balance, resulting in low engine vibration and maximum comfort for driver and passengers
− Transmission design features a shift-drum/shift-fork assembly for improved operation and durability, along with a centrifugal wet clutch in place of the previous belted design for improved operation
− Aluminum cylinders are electrofusion-plated for light weight and excellent heat dispersion – all of which add durability and reliability
− Valve timing, lift and ignition timing have all been optimized; along with a revised exhaust system, the new powerplant pumps out ideal power for a four-person RUV
− Piston wall thickness, connecting rod bearing surfaces and crank journal surfaces have all been upgraded for added durability
− Engine can be started in gear as long as the brake pedal is depressed
− Electronically controlled Kawasaki Engine Brake Control helps to slow the RUV when descending hills
− Engine is positioned mid-ship, providing optimum front/rear balance and optimal handling
− A heavy-duty liquid cooling system keeps temperatures under control in the harshest conditions, and provides long-term dependability
− Large-capacity radiator is compact and placed high in the chassis for protection against mud and debris, while a large cooling fan increases cooling capacity, especially during slower going
− Engine weight is reduced via numerous advanced technologies, including lightened crank webs, rare earth magnet usage, a small generator, and paring excess material wherever possible
− An ignition cut-out protects the brake system by preventing riding with the parking brake engaged
− Large-diameter cooling-system hoses maximize coolant flow and overall capacity, while the coolant reservoir is located beneath the flip-up front cover for easy maintenance
Digital Fuel Injection
− Upgraded digital fuel injection system enhances throttle response and automatically adjusts for changes in temperature and elevation for optimum performance in a wide range of environments
− The Teryx4's FI system is controlled by a 32-bit ECU and continuously monitors coolant temperature, air intake temperature and pressure, throttle position, vehicle speed and crankshaft angle to automatically provide the ideal amount of fuel via two 36mm throttle bodies – now with 12-hole fine-atomizing injectors – for extremely stable power delivery regardless of the conditions
− FI system permits easy engine starting at low temperature and utilizes an Automatic Idle Speed Control and Automatic Fast Idle function to help ensure smooth engine warm up
− The high-pressure fuel pump located within the tank features a unique reservoir chamber at the bottom of the pump to ensure air does not leak into the fuel system
− Specific Teryx-sized throttle bodies, optimized ignition timing and new fine-atomizing injectors maximize low- and mid-range torque as well as offer improved response at higher rpm
Kawasaki Automatic Power-drive System CVT
− Featuring high and low ranges, plus reverse, this advanced and continuously variable transmission provides extremely direct engine feel along with instantaneous acceleration from the new centrifugal clutch
− Transmission utilizes a high-grade, super-durable Kevlar-impregnated belt designed to handle the high output of the engine. The drive converter shaft is hard chrome-finished for added durability
− The CVT Belt Protection System prevents tire freewheel, improves rocky terrain performance and reduces belt overloading by adding Throttle Position Sensor (TPS) data into the system
− Unnecessary belt wear is minimized with a system that reduces engine speed if the engine operates at high rpm for more than two seconds while the rear wheels are motionless
− A large intake duct, located to keep water and debris out, provides plenty of cooling air to the CVT
− Heat shielding on the exhaust pipe below the intake duct minimizes intake temperatures
Electronic Power Steering (EPS) System
− Electrically powered system reduces steering effort, especially at low speeds when turning effort is greatest
− Input from vehicle speed and torque sensors determine the amount of steering assistance required from the system's motor
− Electric motor's inertia reduces bump steer and kickback to the steering wheel caused by shocks to the wheels, resulting in a more comfortable and controlled ride
Category First Centrifugal Clutch
− The category's first use of a centrifugal clutch is key to the Teryx4's superior acceleration control at slow and very slow speeds
− Clutch is located between the crankshaft and CVT drive pulley, which eliminates CVT belt shock and contributes to optimal throttle control and precise power metering
Underhood Snorkel Air Intake
− New snorkel and duct design located under front hood and massive air box – nearly three times larger than the standard Teryx's unit – feeds the engine plenty of clean air while reducing intake noise. Easy maintenance design promotes long engine life
− A new paper air filter element offers plenty of surface area and increased dust resistance
Selectable Four-wheel Drive / Variable Front Differential Control
− Selecting two- or four-wheel drive is as easy as pressing a switch located on the dash; electrically selectable 2WD/4WD/4WD w/differential lock system engages instantly
− Limited-slip front differential reduces steering effort under normal four-wheel drive operation, while Variable Front Differential Control permits the rider to distribute torque equally to left and right front wheels for maximum traction via a hand lever located between the seats
− Rear gear case keeps rear wheels locked and turning together for maximum forward thrust
Double-X Frame Design and Wide-body Chassis
− All-new frame features a Double-X design that bridges each of the boxed sections with cross members that significantly stiffen and strengthen the overall structure, adding durability and reduced flex
− Large-diameter yet thin-walled tubular steel frame combines high rigidity, light weight and mid-engine placement – a perfect combination for performance riding
− Tubular cab framework meets SAE J1194, 7.1.1, 7.1.2, 7.4 and 7.5 requirements as a roll-over protective structure (ROPS) and protects driver and passengers from trees, bushes and other overhanging obstacles
− Steel guards protect the engine from rocks and other trail hazards
− Sport-focused suspension with newly optimized spring and damping settings is designed for high-performance riding and a high degree of riding comfort with extra passengers
− Wide-body track offers additional stability, especially at speed, yet turning radius remains surprisingly short – just 5.1 meters, the shortest in its class – thanks to the Teryx4's short, 86.1-inch wheelbase
− Short wheelbase offers other advantages, including a favorable breakover angle, which allows the Teryx4 to climb over obstacles without grounding the undercarriage
− Chassis offers 10.8 inches of ground clearance, an ideal compromise between great low-CG handling and the ability to clear tough off-road obstacles
− Frame design optimizes front and rear suspension's lower A-arm length for excellent handling performance and minimal geometry change throughout the suspension's travel
− Chassis and suspension serve up an ideal balance of bump absorption, taut steering and ride comfort with one, two, three or four riders aboard
− The 18 in. x 48 in. cargo bed is both durable and plenty useful, especially with the extra passengers the Teryx4 can easily carry
− Forward-tilting front hood assembly offers aggressive styling and allows quick access to the radiator and front suspension components for easy maintenance and suspension tuning
Sport-focused Suspension
− High-performance fully adjustable gas-charged Kayaba shocks with piggyback reservoirs up front provide excellent fade-resistant damping performance in the toughest conditions while providing 7.75 inches of plush, controlled wheel travel
− Independent rear suspension with fully adjustable piggyback-reservoir shocks provides 8.3 inches of wheel travel and the best possible performance and handling at high speeds
− The piggyback reservoirs on the shocks reduce oil frothing under hard conditions by keeping the shocks cooler under strain
− A rear torsion bar helps minimize body roll, maximizing chassis performance
High-performance Brakes
− Dual front 200mm disc brakes gripped by rigid-mount 27mm twin-piston calipers provide powerful, fade-free braking and solid feel. To protect against damage and debris, the discs are tucked within wheel recesses
− A sealed, oil-bathed multi-plate rear brake system provides maximum stopping power in almost any condition along with reduced maintenance due to its completely sealed design
− The sealed rear brake's compact design contributes to excellent ground clearance
Large, 26-inch Tires
− 26-inch Maxxis tires developed specifically for the Teryx provide outstanding traction in many different conditions
− Mounted on 12-inch rims, the largest tires available in the RUV category provide outstanding rough terrain performance and obstacle clearance
Handy Cargo Bed
− With a 250-pound capacity and cargo hooks, the 18 in. x 48 in. cargo bed helps carry quite a bit of gear, making the four-person Teryx4 massively functional
Comfortable Cockpit and Ergonomics
− With its massive passenger compartment, the Teryx4 provides plenty of shoulder and legroom
− Form-fitting two-tone bucket seats (the front ones are three-way adjustable) and retractable three-point seatbelts (with an anti-cinch system) help provide a comfortable and secure ride
− Rear seats are mounted higher than those in front, which helps passengers see clearly ahead and makes getting in and out much easier
− Hand holds for front and rear passengers are standard, making it easier to climb in and out of the vehicle
− A drink holder for each seat is standard and helps keep riders comfortable on long rides
− Padded steering wheel is positioned low for comfort and provides additional driver protection
Multi-function Digital Display
− Standard on all models, the Multi-function Display includes a digital speedometer (mph or kph), clock, dual trip meters plus 2WD/4WD/4WD w/differential lock indicator, water temperature and fuel-injection warning indicators, digital fuel gauge, hour meter, parking brake indicator, CVT belt warning, neutral, reverse and low oil pressure warning lights, and much more
Bodywork
− Thermoplastic Olefin bodywork looks great and offers a scratch-resistant surface that'll look good for a long time
− Standard doors help with getting in and out and also offer a level of mud protection
− Special over-fenders help keep flinging mud at bay, as well
− Standard all-steel front guard helps protect the front of the machine
− Engine and undercarriage guards provide maximum protection from rocks and debris
− Dual 35W headlights and 8/27W dual taillights mean you'll see and be seen
Range / Transportability
− Large 7.9-gal. (30L) fuel tank and excellent fuel efficiency provide workers, campers, hunters and trail riders the ability to get far, far away and back again
− Even with its wide track and big tires, the Teryx4 is compact enough to fit in the bed of most full-size pickup trucks
2012 Kawasaki Teryx4™ 750 4x4 Specifications*
Engine: Liquid-cooled, 90-degree, four-stroke V-twin
Valve system: SOHC, four valves per cylinder
Displacement: 749cc
Starting system: Electric
Bore x stroke: 85 x 66mm
Compression ratio: 9.3:1
Fuel system: DFI®, 2 x Mikuni 36mm throttle bodies
Ignition: TCBI w/ electronic advance
Transmission: Continuously variable belt-drive transmission with high and low range, plus reverse, and Kawasaki Engine Brake Control
Final drive: Selectable four-wheel drive with Variable Front Differential Control, shaft
Frame: Double-X design using large-diameter, thin-walled, high-tensile tubular steel
Front suspension / wheel travel: Adjustable dual A-arm with gas charged shocks / 7.8 in.
Rear suspension / wheel travel: Adjustable Independent Rear Suspension (IRS) with fully adjustable, gas charged, reservoir shocks / 8.3 in.
Front tires: Maxxis 26x9-12
Rear tires: Maxxis 26x11-12
Front brakes: Dual hydraulic discs with 2-piston calipers
Rear brake: Sealed, oil-bathed, multi-disc
Overall length: 125.2 in.
Overall width: 62.0 in.
Overall height: 77.3 in.
Wheelbase: 86.1 in.
Ground clearance: 10.8 in.
Lighting: (2) 35W headlights, (2) 8 W taillight, 24 W stoplight
Cargo bed capacity: 249 lbs., 47.6 W x 17.9 L x 8.7 in. H
Towing capacity: 1,300 lbs.
Curb weight: 1,616 lbs.
Fuel capacity: 7.9 gal.
Instruments: Multi-function digital meter with speedometer, fuel gauge, clock hour meter, odometer, dual trip meter and parking brake, CVT belt, R/N/P/4WD, water temp and oil pressure indicators
Color: Sunbeam Red, Scout Green
MSRP: $13,399
Warranty: 6 Months
Wholesale distributor: Kawasaki Motors Corp., U.S.A.
*Specifications are subject to change. Media are encouraged to visit KAWASAKIMEDIA.COM for most current specifications.