Discussion Starter
•
#1
•
SIRIUS PRO LIGHTS
(Our Military Grade line)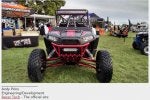 (See them here: https://motoalliance.com/Site.Store.go?action=showCategoryContents&catId=221)
I. SIRIUS PRO Description
One on hand, RIGID makes an amazing light. So does VISION X and some of the other fantastic light companies in the off-road market. On the other hand, Chinese companies direct ship their generic lights straight from China factories. They are crazy cheap, but there is little to no American quality control or customer support.
Enter SIRIUS PRO into the mix! Our electrical engineer, Scott, has his name on a patent in the automotive lighting industry. He brought his expertise to the SIRIUS PRO brand, creating what is, by all accounts, a RIGID quality light at less than half the cost since we don't go through distributors. They are ridiculously bright and
pass rigorous military grade standards
!
SIRIUS PRO might not be as cheap as the random Chinese lights on Ebay or Amazon, but you don't have to throw them away and buy another.....plus you have the piece of mind of American-designed quality and incredible performance at a fraction of the price of high-end companies.
II. SIRIUS PRO Features
All our SIRIUS PRO lights come complete with a waterproof wiring harness and premium Deutsch connections. A range of covers and lenses are available, as are anti-theft bolts and waterproof switches. We have them in in 2" driving styles as well as 10", 20", 30", 40" and 50" bars.
III. SIRIUS PRO Specs
-5 watt, 50,000 hour LED lifespan
-Deutsch Waterproof Wiring Harness with built in strain relief included
-94% Reflector Efficiency
-10 degree Spot Beam & 20 degree Flood Beam Pattern
-IP69K Rating: Impermeable to dust and continuous immersion
-AR-1 Polycarbonate Lens Material
-Passes US MIL810-STD environmental testing
-Oversized heat sink with textured fins for increased surface area and heat transfer
-ROHS Compliant
-GORE® Pressure Equalizing Vent equalizes internal pressure while maintaining a moisture barrier
-Internal rubber bushing insulates light bar from vibration
-Stainless steel hardware & UV resistant paint
-Optional anti-theft bolts
-Limited Lifetime Warranty
IV. SIRIUS PRO Video Information
V. SIRIUS PRO Racer Tech Review