Discussion Starter
•
#1
•
I was faced with an expensive engine repair on my 2008 Teryx, and I discovered that I could buy a complete engine assembly from Kawasaki that would save me money instead of rebuilding the old one, but the only engines they had were for the 2013 model – quite different from the '08 or so I thought. I did a little checking around and it looked like it would be a feasible conversion, so I took the gamble and bought one. The following is what you can do to an F.I. engine to make it work on a carburetor engine:
1. Remove the old engine from the Teryx and place alongside the new engine (it was easy to compare and swap parts that way)
2. Remove the water pump covers, impellers and generator covers from both engines.
3. You will need the Kawasaki puller to remove both flywheels (watch out for the flywheel woodruff key, it could fall out of the crank and into the engine)
4. Notice the difference between the flywheels, you will need to install the '08 flywheel on the '13 engine. But before you do, you'll see they beefed up the starter gear on the '13 engine, so swap out the gears as seen in the pictures:
5. Degrease the flywheel taper and the crankshaft taper and install the '08 flywheel on the '13 engine making sure you also install the starter clutch idler gear at the same time. Use the flywheel retaining bolt from the '13 engine and tighten it to 94ft/lb
6. The stator for the generator looked different, so I swapped it and the pickup coil as a set.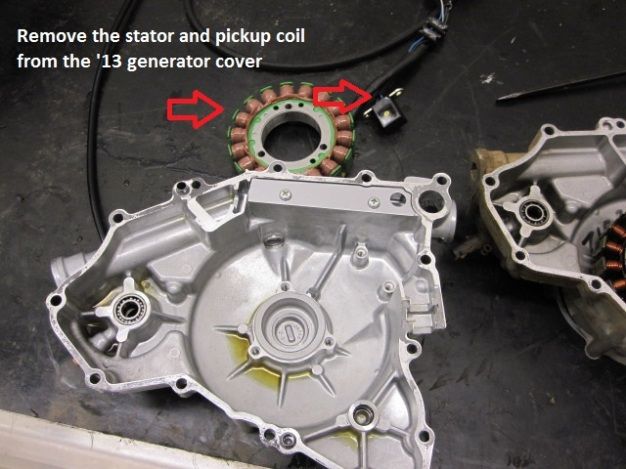 7. Use new gaskets and install the generator cover, water pump impeller and cover. Use silicone sealant around the grommets where the wires emerge from the cover.
8. You will see that the mounting lug where the thermostat housing bracket goes has a new size hole – 8mm from 6mm, so drill the bracket hole to 8.5mm to allow some adjustment and find an equivalent length 8mm allen bolt to hold the bracket. Now swap both the water pipes. I used the new o-rings on the water pipes that I removed from the '13 engine. Grease them before installing:
9. Remove the airbox mounting bracket and rear cylinder intake valve cover from the '08 engine and install all those parts including the bolts and o-ring on the '13 engine. The valve covers on the new engine are taller and would cause an airbox misalignment. You only need to change the one valve cover: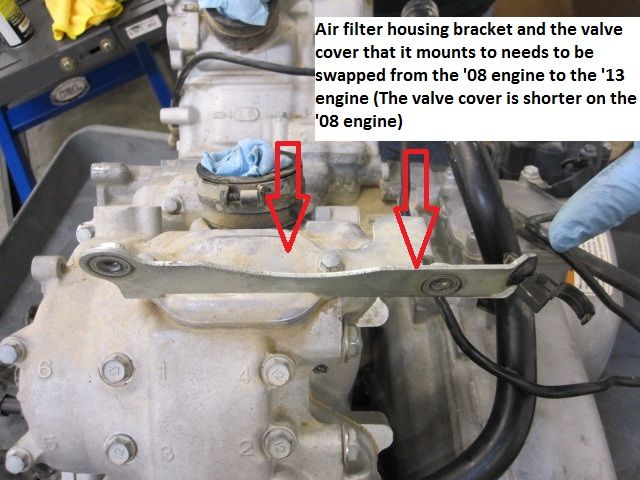 10. Swap the starter motor wire, the new one is too short: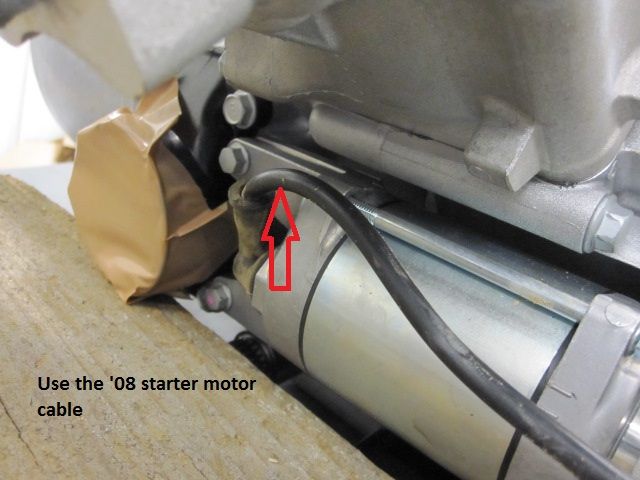 11. Swap the rubber intake manifolds and the crankcase breather tubes:
12. That's all you need to do to the engine before installing it to the vehicle. Just one area of caution and that is the cooling hose at the front of the engine from the thermostat is quite close to a new lug on the cylinder head. Run a file over the sharp edge and make sure there is clearance for the hose: