FIRST I MUST TELL YOU THAT I AM NOT A PROFESSIONAL MECHANIC, BUT I DO KNOW MY WAY AROUND MY GARAGE AND I CAN REBUILD SMALL BLOCK CHEVYS... I CANNOT BE HELD RESPONSIBLE FOR WHAT YOU DO WITH YOUR CAR OR YOUR WRENCHES, PLEASE BE SURE TO FOLLOW ALL INSTRUCTIONS PROVIDED BY THE MANUFACTURER AND DOUBLE CHECK ALL YOUR WORK, YOURS AND YOUR FAMILY'S LIVES ARE IN YOUR HANDS!
THESE ARE MY EXPERIENCES WITH THE INSTALL OF THIS KIT, AND BE AWARE THIS INSTALL WILL TAKE THE BETTER PART OF A WEEKEND! SO I SUGGEST STARTING IT ON A WEDNESDAY NIGHT (IN CASE YOU HAVE ANY QUESTIONS FOR SUPERATV BEFORE THE WEEKEND)
"THE" SUPERATV LONG TRAVEL instruction addendum thread.
GOING FROM MILD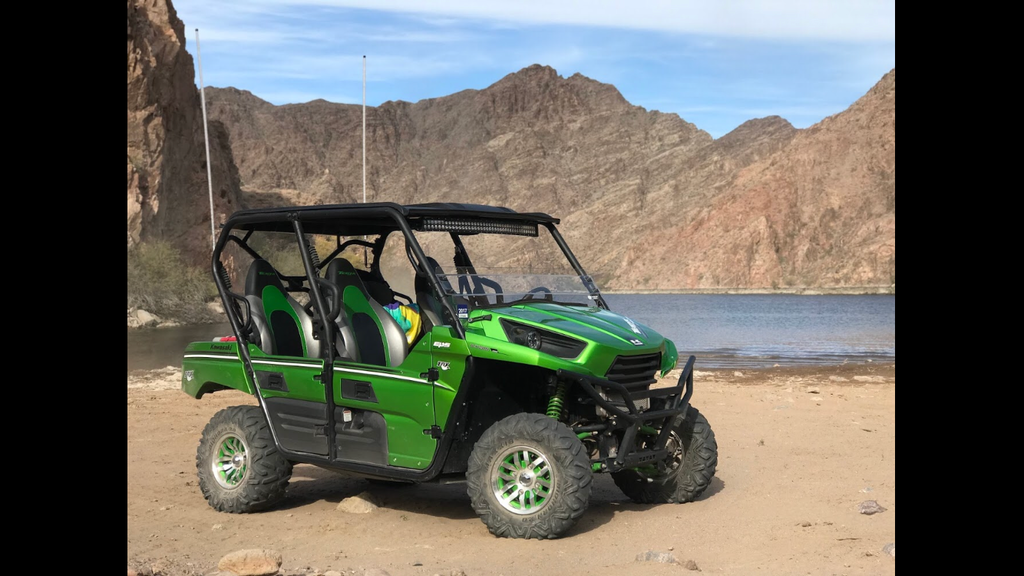 TO WILD!
As experienced by Vegas250rr…
After that last straw snaps and you break down and make your purchase of the SuperATV
long travel kit with shocks, here's what to expect!
Your new kit will show up in 5 large boxes to the tune of around 200lbs.
Kit Includes:
• (4) Rhino Brand Axles
• (4) New Walker Evans Piggyback Shocks (optional)
• Extended Brake Lines and Tie Rods
• New uniball and stud (replaces factory ball joints)
• All Necessary Hardware For Easy Install (Maybe… mine was short zert fittings required by the directions in the blister pack)
• Be sure to download the superatv directions and have them on hand in printed form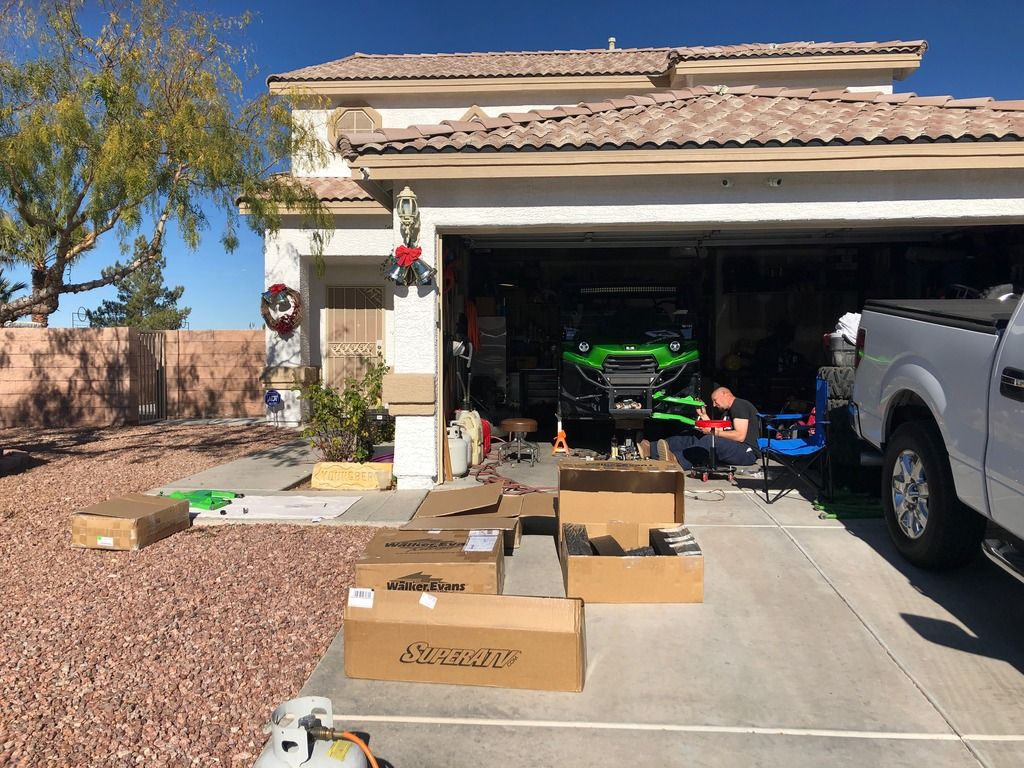 Be sure when unboxing, you document this process either with video or good photos.
This can aide in any returns or repairs needed to your new kit. SuperATV does have good customer service, but you will need to make your case with photos of any issues that may arise.
After you have all your kit items accounted for your ready to start tackling the project.
Pg3. The tear down is simple enough but the directions for my car had a few differences.
START FIRST WITH THE CROWN NUT ON THE AXLE!
This little tip will save you soooo much aggravation.
Next they wanted me to swap the ends of the sway bar to opposite sides of the car.
This step was totally unnecessary for my application as the links were in the correct orientation for the new assembly.
Everything else from page3-4 was done accordingly though if your brake lines are in good condition, you could probably omit that step as well because they seem to be plenty long once they are unattached from their routing.
Remove everything else as described on the page.
Page5
If you are using GP bushings like I did then this part is covered by GP instructions and they go together very easily with nothing more than some silicone spray and a little body weight, I think I used a rubber mallet 2 times for all the bushings.
Next are the zerts, take the time to install these, but don't get crazy and tighten them all the way up yet (45° fittings only) you will be adjusting some of them for ease of access to grease once everything else is in place and in your way!
Page6
My uniballs were all installed when they were shipped so I needn't worry about that information. I hope that's the case for you as well.
Page7
I found the steering stop installation to be a little tricky, mainly because I have never been in a steering box and all of my wrenches were a little wide. You'll want a thin crescent wrench to get into the box and hold that shaft in place while you are removing the tie rod ends on the rack and pinion.
Page8
Follow instructions as stated
Page9
Follow instructions as stated
If you decided to change out those brake lines that is.
Page10
Follow instructions as stated, but leave all nuts except the castle nuts on the ball joints loosely fitted, Until final alignment has taken place.
Page11
Remember that sway bar link thing….HERE IT IS!
I need to do nothing to mine but reattach it. And in Hind sight. This is NOT the time to do this step, wait until after you have done the alignment to attach it and it will keep the weight of the opposite side off the side your working on until your ready for it.
Page12
Attach the front shocks using Hardware provided and here's how those provided bushings with no instructions work.
Two brass sides with one spacer go in the tops of the rear shocks, Also to note the rear shocks are the ones with the piggyback at a 0 offset to the main shaft.
You will have 8 of the same bushings, those are all for the lowers of all four shocks and will not use spacer bushings.
The front upper bushings are smoothed over on the edges and will also use the spacers to put them together.
For the little spacers that don't quite fit into the spherical bearings I was instructed by walker Evans to gently tap them into place. (They will yield and go in pretty easily though we did it the civilized way by pressing them in with a C clamp)
Now take those little break line clips and throw them in the garbage! Go to Lowe's or home depot and buy your self some 1/4 " line clamps made of steel, I used half clamps and they worked fine and will not let the brake lines slip into danger like mine did!
Page13
Follow the directions as instructed
Do not swap parts from side to side and keep them in order so you know what goes where.
Pay attention to the orientation of the knuckles as well, there is an UP arrow on them and they'll need to be reinstalled in that fashion to maintain proper caster angle.
Page14
Follow the directions as instructed
And remember what I said about those 45° zerts. You'll be adjusting their orientation once everything is on, so don't tighten them down completely.
Page15
Page 15 and I have issues.
At this point it wants you to install the axle, I did not, well I did but I took it out because it was just too much weight for the following steps. So skip installing it for now. You'll want to get your arms adjusted to fit the knuckles and the camber angle before you install them.
In addition to that I had fitment issues with the top and bottom arms coming together at the knuckle. I was just shy of ½" off in alignment and contacted SuperATV with my concerns.
I was directed to adjust both blocks in equal and opposite directions to make it come into line with the upper A arm. This sounded easier than it was! A good drift pin would have helped a bunch in aligning the bolts for reassembly but as it was it took some brute force to make it happen (I imagine that if you were using rubber bushings this would have been a little easier) This caused a toe in effect on my rear tires but after the test ride I decided that it was acceptable.
Page16
I personally didn't do this in step either… I waited till after camber adjustment.
Page17
Camber adjustments:
To get myself close I used scissor jacks at the bottom of the knuckles and brought them up to what I though might be ride height of the arms. (referencing angles in photos from the SuperATV website)
Taking camber angles with a dial gauge, I decided that both sides needed to come out an additional 2 full turns on the bottom to give me 1-2° camber.
After I was happy with my rough number I pulled the knuckle again, installed the axles (Make sure they click in) and the shocks and locktighted everything on the rear.
Page18
The front alignment,
Wow did I have questions here, calling on the fabricators knowledge from across the street I was instructed to do it in this order.
Castor then camber then toe.
So that's what I did…
(Again I placed the front end on scissor jacks at what I though might be ride height per the photos.)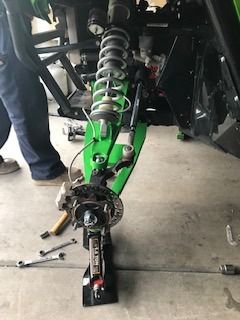 Good luck finding a smooth straight part to stick your dial angle finder on the front hub to check castor, so what I did was held a piece of ½ angle iron a crossed the hub inline with the top and bottom ball joint center lines. Noted the angle and adjusted both blocks till I had 5° castor.
Then I laid my gauge on the brake rotor and adjusted my camber angle with the blocks (both the same way and the same amount this time)
To obtain 1-2° camber
Then came the toe in and out… I used 36" sticks of ½" aluminum angle stock and a lug nut on the hub to mount it.
Making marks at both center of hub and 13" out on either side of the center line for a nice place to get consistent measurements.
Adjusting my tie rods to equal amounts of threads first then to an acceptable tolerance of toe on the front wheels making sure that the steering wheel remained centered the whole time.
After my test ride I noticed about 5-10° of difference in my wheel from stock to now, so at least I am closer than I thought I would be.
I then lock tighten all fasteners.
Installed my shocks and my sway bar.
Tightened all Jam nuts front and rear.
Verified all axle nuts had lock tight and cotter pins installed.
Bled my brake lines and topped of the master cylinder.
And installed the tires for a test drive.​