Discussion Starter
·
#1
·
Anybody else find the seat belt digging into their neck while driving or riding? I eliminated part of the problem by plugging in the seat belt bypass loop for everyday, low speed trips on the farm. When I go to Hatfield McCoy, I feel like I really should wear my seatbelt and a helmet.
The first thought that crossed my mind was if the attachment point on the roll cage near the shoulder could be lowered, just like the sliding adjustment points in many automobiles. Pictures of cutting and welding danced through my head.
Then I searched the forums and Google for seat belt modifications and extenders and found mostly things related to longer belts for rounder folk (not that I have any room to talk) as well as lots of 4 point harnesses.
My Google search did reveal these extenders, they are just flat bar steel with a hole at each end (photos below). This seems like a workable solution with minimal effort. Since it is a seat belt company that offers them, I would like to think the R&D on metal gauge and quality has already been done for seat belt stress applications, as well as they are already pretty with chamfered edges and Zinc coating for rust protection. Time Value of Money says just order them instead of trying to make them.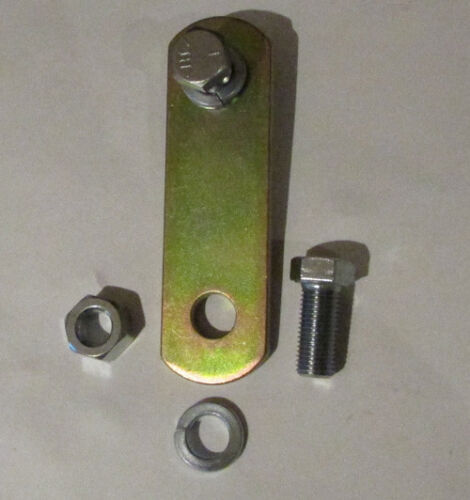 Find many great new & used options and get the best deals for Seat Belt Mounting Bracket Extension Flat Seatbelt Mounting Bracket: 4" Long at the best online prices at eBay! Free shipping for many products!
"Seat Belt Mounting Bracket Extension Flat Seatbelt Mounting Bracket: 4" Long" @ $13.75/ea plus $8.99 shipping
Andover Restraints is the Company
Purchase seat belts including non retractable and retractable lap and lap with harness plus retrofit kits and restraints for specialty applications from Andover Restraints. Secure on-line ordering.
Looks like they make a 7" long version as well.
Anybody have any other experiences -or- thoughts to share on this concept/product?